6 Unique Ways to Update Your Kitchen Cupboards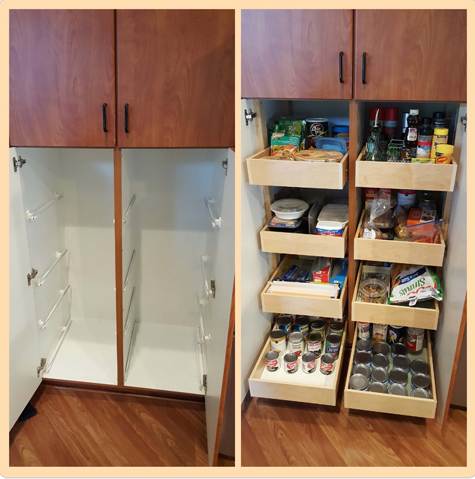 With springtime approaching, homeowners are looking to give their home a touch-up as a part of spring cleaning. Spring cleaning involves more than just cleaning out crawl spaces, attics, and closets. A home's interior can use a sprucing up to give it some new life and embrace springtime. One of the best recommendations is giving your kitchen cupboards an update! This is an effective way to brighten up the kitchen and the home in lieu of Spring!
Here are the top 6 unique recommendations to give your kitchen an update this Spring:
Convert Your Cupboards Into Drawers! – We are masters at taking your existing cupboards and transforming them for maximum organization and ease of use.
Painting the Cabinets

– Giving your cabinets a new coat of paint will give the appearance of a new kitchen and give you new ideas for kitchen decor. This is also the most cost-effective alternative!

Removing the Doors

– For a new take on your kitchen space, try an open concept and take out the cabinet doors.   

Glass Doors Inserts

– Instead of replacing all of your kitchen cabinets, adding glass inserts will not only look great but will cost less than a full replacement.

Install Roll-Out Shelving

– Installing roll-out shelving is great for new storage ideas and convenience.

Spice Rack

– The backside of your cabinet door is a great potential for storage, which can make it ideal for a spice rack.
These cupboard ideas not only give you new storage options, but it will give your kitchen a much-needed refresher. For some of these remodel ideas, it may take an extended amount of labor and time for the updates to be implemented. If installed incorrectly, the remodeling may not only waste time but can waste money too. This is why it's best to hire experts who can help improve the look and feel of your kitchens drawers and more.
For the best custom kitchen drawers installation, the Drawer Dude should be your number one choice. Our experts can fully customize new cabinet designs offering you efficient storage space. Not only will your cabinets be fully functional, but they'll look stylish too. The professional carpenters at The Drawer Dude can install and remodel all of your cabinets flawlessly. Contact us today to discuss options and receive a free quote!