Custom Kitchen Cabinets in Delray Beach, FL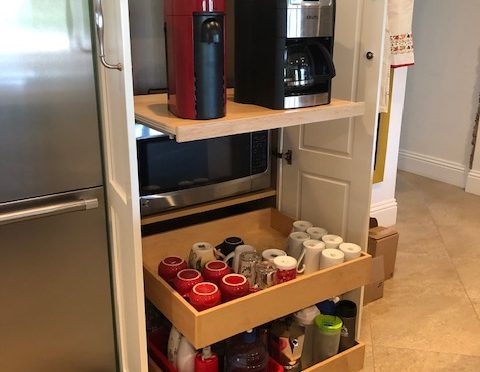 Remodeling your kitchen is no easy task. It's more than just replacing cabinet doors, as it gives your kitchen and home a personality. Are you looking for a company that builds custom kitchen cabinets made of the highest quality in Delray Beach? Do not leave your kitchen remodeling project to just anyone. The Drawer Dude specializes in building hand-crafted and high-quality kitchen cabinets that will maximize your space for better organization and accessibility. We want you to dream big so we can give you exactly what you want.  The Drawer Dude takes pride in his craftsmanship and with over a decade of experience under his belt serving Palm Beach County, you can ensure we can handle any job or project no matter the size. You can trust that The Drawer Dude is ready to roll! We're proud to be the top provider of custom kitchen cabinets in Delray Beach, FL.
The Drawer Dude is proud to deliver elegant custom kitchen cabinets that offer the best organization and unbeatable value without sacrificing product quality in Delray Beach. The whole process can be quite daunting with all the options available to customize your cabinets. Not all custom kitchen cabinets are the same, as some are pre-made or stock or semi-custom and unfinished.  The Drawer Dude will go over every detail with you, from the type of wood, door style, framed or frameless, inset, stain, paint, glazes, finishing techniques, down to the hardware and accents.
Types of Kitchen Cabinets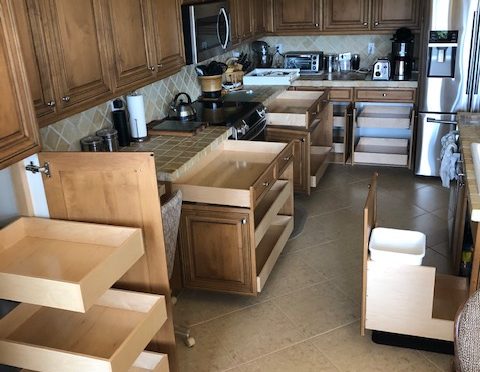 Base Cabinets – these are located under your countertops or around your kitchen island.  We also offer kitchen desk cabinetry and sink pull out cabinets. Some of the more traditional options are base pull out cabinets, typical base easy-access cabinets, two drawer cabinets, open base cabinets, corner cabinets, super cabinets, and recycle & trash cabinets. Most of these can be customized to have a lazy susan, adjustable roll-out drawers or shelves.
Wall Cabinets – these cabinets are all wall-mounted and provide access to all things while standing or moving. These are offered in smaller cabinets to hold spices, appliance storage or bread box cabinet, typical easy-access cabinet, or corner cabinet with lazy susan. It all depends on your layout and is fully customizable.
Tall Cabinets – are often used for a pantry, fine china, and or utility storage. These include the ability to accommodate larger items. For instance, bulk foods and or brooms and mops.  These are available in utility tall cabinets, oven & microwave cabinets, tall or wide pantry pullouts.
Cabinet Construction
The construction of a cabinet determines how it functions and looks. Shelving options, types of wood, hinges, and finishing techniques all play an important role in cabinet construction. The three types of construction of cabinets are:
Frameless – Frameless is exactly that, it lacks the frame around the opening of the cabinet.
Framed – Framed is the most traditional construction that offers rails and stiles that form a frame at the front of your cabinet.
Inset – this construction type features doors that fit inside of the cabinet face. Having your cabinet doors flush and inset on the inside of the frame opening allows for minimal gaps between openings.
Types of Wood
This is where things can get tricky! Choosing a type of wood with so many choices is mind-blowing. First, you will want to look at all your options and consider the unique characteristics of each wood type.
Natural Wood Characteristics
Burl – this wood does not contain a knot but offers a swirling grain or fingerprint grain.
Bird Pecks – small divots in the grain pattern caused by birds pecking at the wood.
Sound Knot – a nice tight knot and solid face that shows no decay.
Wormholes – holes in the wood that resemble a worm.
Unsound Knot – a bigger knot in the wood face.
Mineral Streaks – blackish-brown in color and follow the grain pattern.
Sapwood – the lighter colored wood that grows from inside the bark.
Gum Streaks – mineral-like streaks found in only Cherry wood.
Heartwood – the mature darker wood that extends from the sapwood.
Wood Types
Cabinet Finishes
Stains – can be applied to your cabinets to help bring out the natural beauty of the wood. Stains can range anywhere from light to dark. Light stains allow the wood's natural character to shine while the darker stains tend to hide the grain. Darker stains definitely create a more dramatic and richer look.
Paints – usually applied when an opaque colored finish is desired and on tighter grained woods. A smooth finish can be expected, although it does depend on the type of wood used.
Glazes – these are used to highlight different edges of cabinets and can be applied to both stain and paint finishes.
Finishing touches – we can distress the finish, sand the edges, add dents or gouges to cabinets for a perfectly aged look. These finishing touches are great ways to add uniqueness to your cabinets.
Hardware
With endless possibilities to choose from, many factors come into play.  Your personal style, design theme, and or functionality are to be considered. Cabinet hardware is available in many different shapes, designs, and materials to choose from.
Ceramic
Glass
Antique Copper
Polished Brass
Satin Nickel
Polished Brass
Oil Rubbed Bronze
Custom Roll Out or Pull Out Drawers in Delray Beach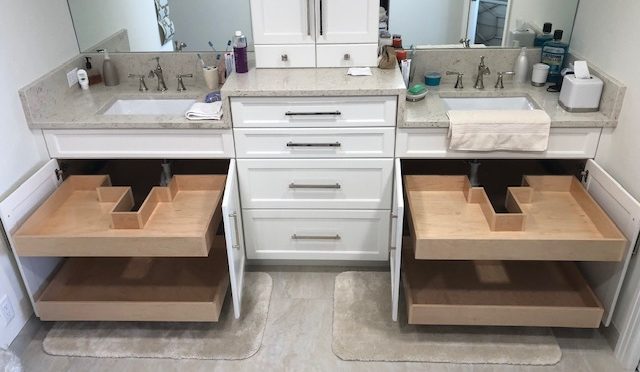 If you are looking for a highly reliable company that specializes in building custom kitchen cabinets or maybe adding some custom roll out or pull out drawers to your current kitchen cabinets in Delray Beach? Look no further as The Drawer Dude has you covered as he specializes in handcrafting these custom roll-out drawers and kitchen cabinets. We take customization to the next level.  We offer a number of choices when it comes to the look of your roll-out drawers or cabinets. Whether it's a dysfunctional pantry, bathroom counter that needs decluttering, or more functional laundry room cabinets, we will carefully handcraft a perfect solution for any room. The Drawer Dude will handcraft custom roll out drawers specifically for your cabinets and will help you to better utilize up to 50% more of your current cabinets available space. If you are dealing with cluttered and disorganized kitchen cabinet space then give The Drawer Dude a call.
We can't wait to show you how we can transform your kitchen cabinets into well organized and highly functioning with our custom roll-out drawers in Delray Beach. Contact us by form fill or by calling us at 561-585-7117 today! For custom kitchen cabinets in Delray Beach, FL, look no further than The Drawer dude.