Custom Kitchen Cabinets in Haverhill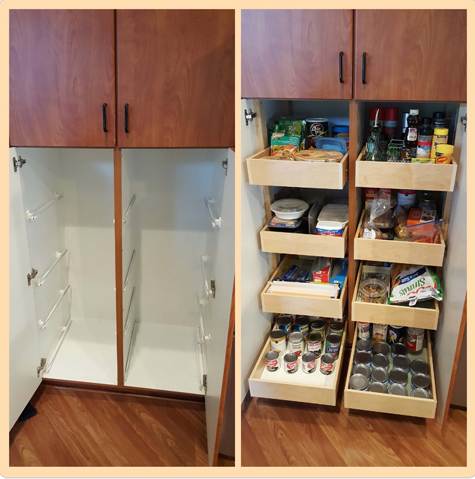 If you find yourself unsatisfied with the current appearance and function of your kitchen cabinets, there's no reason that you should feel frustrated. In fact, if you happen to live in Haverhill, FL, then you'll be more than happy to know that The Drawer Dude is close by. With our professionalism and expertise, we can provide you with the absolute best custom kitchen cabinets in Haverhill. Here at The Drawer Due, we specialize in custom cabinetry – construction of custom kitchen cabinets and custom drawers for Haverhill residents. For more than a decade, The Drawer Dude has collected tremendous experience in providing Haverhill residents with unequal service. Our service is guaranteed to help deliver the best and most high-end finished product to your place of residence or business.
Custom Roll Out Drawers in Haverhill
Our business specializes in constructing custom roll-our drawers and custom roll-out shelves. You can trust that our roll-out drawers will provide the ultimate convenience and kitchen organization. Regardless if you want to store cooking ware, food, or anything else, you can best believe that our drawers will prove to the absolute greatest addition to your property. If you want to have a qualified expert help you build the absolute greatest custom shelves, roll-out drawers, or other custom cabinetry work, we can promise you that there's no better business than The Drawer Dude.
It can often be a chore to have your property undergo kitchen remodeling renovation, And this isn't just due to the massive amount of work involved. It can also be because there are countless designs to select and have implemented into your new kitchen look. We here at The Drawer Dude understand that there are many choices for you to choose from. And due to this, we will always be happy to consult with you about the possible kitchen cabinets that you can have installed in Haverhill.
Below are the options you can choose from for your cabinets:
Types of Kitchen Cabinets
Tall Cabinets – Tall cabinets are useful for when you want to have a place to store your fine china. Tall cabinets can also be utilized as pantries or even utility storage. And because of there big size, large items such as bulk foods or even brooms can be stored in them. When you choose us, you'll be able to select one of three different variations for these cabinet types: utility cabinets, oven and microwave cabinets, and tall or wide pantry pullouts.
Wall Cabinets – As the name implies, these cabinet types can be installed on the wall. Wall cabinets can give you full access to items as you're standing. Our wall cabinets are offered in small and regular sizes so that they can hold different appliances, spices, and other objects. The Drawer Dude can provide you with easy-access or corner wall cabinets that are that can be built with a lazy susan. All are fully customizable and it all depends on your layout.
Base Cabinets – Base cabinets are optimal for extra storage needed under your countertops or around your kitchen island. Our base cabinets are also offered as desk cabinetry and sink pull-out cabinets also. We also offer such types as traditional appearances like base pull-out cabinets, easy-access cabinets, open-base cabinets, two-drawer cabinets, super cabinets, corner cabinets, and recycle & trash cabinets. Some of these can be built with a lazy susan installed, adjustable roll-out drawers, or shelves.
Cabinet Construction
The functionality and look of a cabinet are determined largely by construction When the Drawer Dude gets to work to build your Haverhill custom kitchen cabinet factors such as shelving options, hinges, types of wood, and finishing techniques all play an important role. Cabinet construction is offered in three types:
Inset – Inset doors are fitted inside of the cabinet face. These will fill minimal gaps between openings.
Framed – The most traditional construction types that provide rails and stiles that form a frame at the front of your cabinet.
Frameless – As the name implies, frameless implies a lack of frame around the opening of the cabinet.
Types of Wood
It's usually difficult having to pick the right wood types based on your needs for custom kitchen cabinets in Haverhill. In a lot of cases, people usually have a good idea of what they want with custom kitchen cabinets. But in most other cases, property owners are still left undecided about what they want. And if you belong in the latter group of people, it's up to you to decide which wood type you want. Here are some of the wood characteristics of what to expect with each:
Natural Wood Characteristics
Sapwood – the lighter colored wood that grows from inside the bark.
Heartwood – the mature darker wood that extends from the sapwood.
Bird Pecks – small divots in the grain pattern caused by birds pecking at the wood.
Wormholes – holes in the wood that resemble a worm.
Mineral Streaks – blackish-brown in color and follows the grain pattern
Gum Streaks – mineral-like streaks found in only Cherry wood.
Unsound Knot – a bigger knot in the wood face.
Sound Knot – a nice tight knot and solid face that shows no decay.
Burl – this wood does not contain a knot but offers a swirling grain or fingerprint grain.
Wood Types
Cabinet Finishes
Finishing touches – We can make your Haverhill custom kitchen cabinets truly stand out with a finish application done by us. Our craftsmanship will help distress the finish, smooth the edges, and provide dents or gouges to your cabinets to leave a perfectly aged look.  What you desire all depends on what you want to customize your cabinets with.
Paints – We're more than happy to apply paint on an opaque finish or on a tighter grained wood type. Smooth finishes are usually possible. However, this often depends on the wood type that's applied.
Stains – The natural beauty of your wood cabinets can be brought out with an applied stain. And The Drawer Dude is able to do this for just about any custom kitchen cabinets in Haverhill. All of our stains range from anywhere from light to dark. Many light stains help to make the wood's natural character shine as darker stains hide the grain more. The darker stains definitely create a more dramatic and richer look.
Glazes – glazes can be used to highly different edges of your custom kitchen cabinets and it can be applied to both stain and paint finishes.
Once The Drawer Dude utilizes one of these finishes, it is sure to bring out the best characteristics of your custom kitchen cabinets in Haverhill!
Hardware
Selecting the right hardware for your custom kitchen cabinets in Haverhill can play a very imperative role. The Drawer Dude is able to offer patrons a wide variety of possibilities that all depend on the style you want. You'll also need to keep in mind the design theme or function you desire for your custom kitchen cabinets. Cabinet hardware is available in many different shapes, designs, and materials to choose from. Here are a few options:
Oil Rubbed Bronze
Antique Copper
Polished Brass
Ceramic
Satin Nickel
Glass
Custom Roll Out Drawers in Haverhill
For the past decade, The Drawer Dude has granted countless clients with the absolute best in cabinetry and roll-out drawer shelves. Thanks to his craftsmanship and handiwork, many Haverhill residents are happy with the direction and finishing touch that's been constructed in their homes. And we're confident that when you hire us, you'll become one of them. We can't wait to show you how we can transform your kitchen cabinets into well organized and highly functioning storage units with our custom roll-out drawers and cabinets. Contact us by form fill or by calling us at 561-585-7117 today!